Dear Sir/Mam
I am applying for 261111 ICT Business Analyst under 189 Visa
I wanted to know how detailed the resume has to be for a positive assessment, I have been told that I need to have atleast 8-10 projects identifying what were the goals, what i did, what were the achievements. I thought of adding these, however, this would make the resume very lengthy and repetitive.
Please advise.
Thank you for your help.
Hi Amandavid,
Bro. did you get any response on your query? I am also confused how to prepare resume for - 261111 ICT Business Analyst.
In case you have some sample do share with me as well.
Thanks,
Kunwar
Hi,
Thanks for lot of information, Can you help me with the below queries.
Regarding experience, do I need to upload only reference/referral letters or do I need to upload all the offer letter, appointment, experience, relieving, hike, payslips, etc

Can a Gazzetted officer signature with stamp stating his job and work place without registration number would be fine ?
As I have seen, Gazetted officers stamp does not contain regd no.
Thanks,
Vinay
Thanks Anil, now I have take colour xerox's of following documents
Passport first page, last page
Referral letter from the 7 companies I worked, mentioning my tenure with the company, roles and responsibilities.
My education certificates … 10th, Intermediate, Degree convocation, Degree provisional, Degree summary of mark sheets of all semesters in one certificate.
I have done notary for all these colour xerox documents, notary has registration number as well.
These should be fine right.
Thanks,
Vinay
Hi Anil,
I have received an email from ACS asking for a notarized copy of the documents I submitted. I already submitted them now on July 22. Will the 8-10 weeks period start on the first time I submitted the docs (not-notarized-July 1) or on the second time (notarized copy - July 22)? Thanks!
Ed
Hi Anil,
I have received an email from ACS saying … Missing documents and its being kept on hold for 14 days. I have uploaded all the said documents as per the blog… still I got this email
Now I have payslips, but bank statement I have only for past 5 years… before that I had account with abn-amro but that bank is closed and I dont even have provident fund statement for all years.
please guide me what to do next. please find the attached file from acs.
And also should the payslips, bank statement, provident fund statement be notarized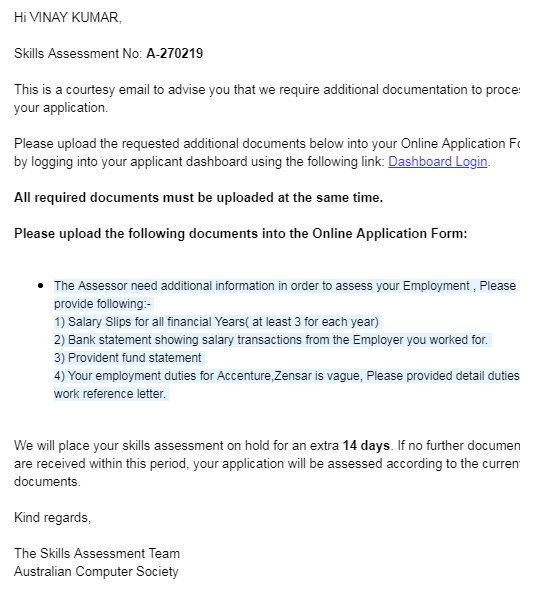 Hi @egodalle
The 8-10 weeks period starts from your first date of application.
Thanks Anil. I got my assessment today and it is positive. Out of my 14 years experience, ACS removed 4 which is what I expected. Thanks!
HI,
I am going for ACS assessment but I do not have my 5th semester mark sheet which I lost it long back. But in final semester mark sheet the total mark of 5th semester is mentioned.
Can someone please help what should I do?
or
Is it ok to go for assessment without the 5th semester mark sheet?
Please help experts.
Hi @aka
It is better you get a duplicate mark sheet from your university as ACS would need it.
Appreciate your response. Let me try my level best. Thanks

@Anil.Gupta Kindly help me out with 2 queries I have for documentation process.
Do the photocopies/xerox need to be in color after which I will get them notarized?
My name is not exactly the same on all documents and does not match my full name in passport, do I need to make a name affidavit in this case or anything else?
Thanks so much.
Thank you so much, will do so.