Thanks anil for your response i was just worried since they saying 10 business days
Hey @Anil.Gupta
My friend and I are travelling to US for business on B1 visa and require PCC urgently. When we went to the Consulate General of India in San Fransisco they told us that they cannot give us the PCC without I-797 petition, however, we do not intend to immigrate to US.
How must we obtain the PCC without going back to India being Indian citizens travelling abroad?
Hi,
I have applied for a PCC from the CGI in San Francisco via mail but have not heard back from them. I have tried contacting the consulate using the numbers listed in their website and the extension: 148 during the permitted hours (2PM-4PM PST) but have not been able to talk to anybody or find out about the status of my PCC request.
Since, I sent my original passport to them I am a little concerned.
Do you know of any other way to contact them for the status and my passport?
Thanks in advance!
Shweta Nair
Hi @Shweta_Nair
There is no need to worry as SFO embassy's processing time is usually high and is currently about 20-30 days for PCC.
You are not alone. They also do not pick up phone so easily.
Hi Anil,
In the past 10 years, I spent 6 months -183 days in Pittsburgh,PA,USA. Should I submit PCC for that stay for Australia 189 PR visa application ?
Hello Divya !
could you please shre your experience / results with me as i am in the same boat right now.
Applied for PCC at SFO consulate in-person in September 1st week. Its been 23 days today.
I tried calling them, emailing them and even check the status online - no updates from them in any of the tried ways.
They gave me a receipt and said it would take 1 month after checking my passport and i797. my ITA exipration is approaching in 15 days
when did you get your PCC? was it within the 30 day time frame that they suggested ?
What about the extension that you filed ?
Please share your answers . it would be of great help
PCC from SFO Indian embassy usually takes 4-6 weeks. That's their normal time frame.
My update- I got my PCC from SF consulate after 30 days. In my case, they sticked to 1 month turnaround time.
Hi,
Planning to apply in person for my PCC at the Consulate in SF.
Do I have to submit my passport if I apply in person?
They just see your passport if you apply in person and return it to you.
Hi Anil,
For SFO Indian consulate pcc form there is a field for mentioning previous passport, my question is it for old expired passport or the current new one?
Thanks
Do you think a screen shot would help understand your question in a better way?
Anil,
Sorry, I forgot to mention form name and all. Attached is the screenshot, I am talking about point 12. It's in personal particular form.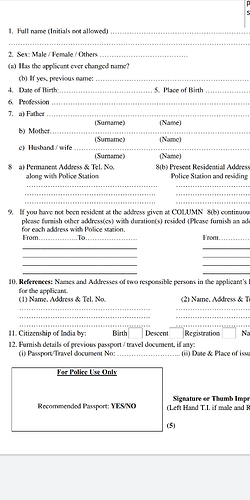 Yes, it does mean that you need to share details of all previous and expired passports.