Hi @Arif_Ahmed
I do not have any suggestions to make at this time for your case.
Thanks for your reply.
Please make some suggestions once you have some time.
Thanks
Hi,
I will be filling for EOI for the jobcode 262112 with the point 70 (189) and 75(190).
Could you please tell me how much time would it take for receiving the PR.
Hi @Pinky_Gowda
Chance of invite with 70 points are low at this time. I suggest to increase points to at-least 85 as per current trend.
Hi Anil, I'm waiting for ICT SECURITY SPECIALIST invitation. I currently have 85 points and 90 points for 189 and 190 respectively. Do you think I stand chance to get an invitation? How long I would have to wait for an invitation do you think?. Let me know thanks.
Hi Anil, it says the EOI will probably expire before invitation with 85 points. How can that be?
I cannot comment without your date of effect.
The app uses the current trend and the possibility of invite in near future based on your date of effect.
It may or may not come true as Australia Immigration does not share how many invites they are going to send in future. They change it every month.
The Date of Effect is 20/04/2020.
Any comments on the the expected month of invitation??
Sorry, I don't comment on individual case invite chances due to pack of time.
You can use the app that has been shared or opt for paid consultation if you want more information.
Hi Anil,
I used the app and the result is attached.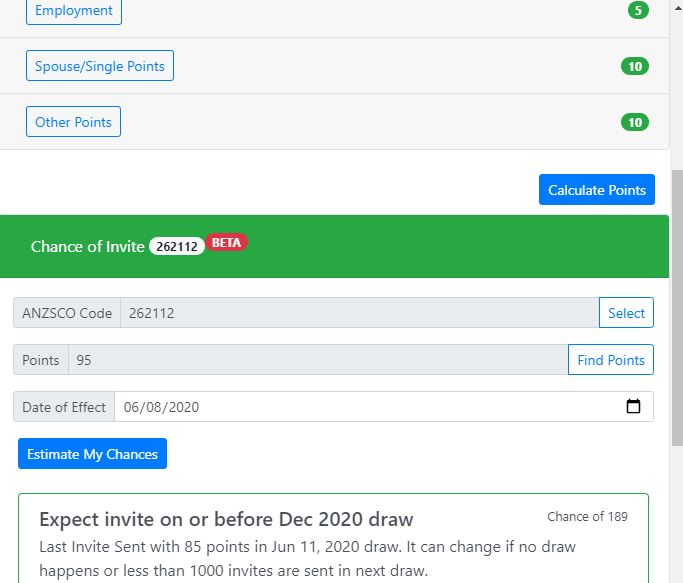 The data is actually incorrect, as I did not receive any invite in Jun 2020 draw with 95 points (189).
Could you please shade some light over it?
Regards
Pawan
Data is correct. Your understanding is wrong.
The last draw invites are sent with a date of effect. Not everybody with same points gets the invite.
What's your date of effect? 8 June or 6 Aug.
Are you sure you have 95 points in your EOI?
Can you share the screen shot of your EOI?
My EOI date is 29th July 2019. As per your tool I should have got the invite in June but I haven't got any invite. My initial EOI was 75 points submitted in 29th July 2019 Points changed to 85 on 16th November 2019 due to changes i got 10 extra points but EOI date is 29th July 2019. Please advise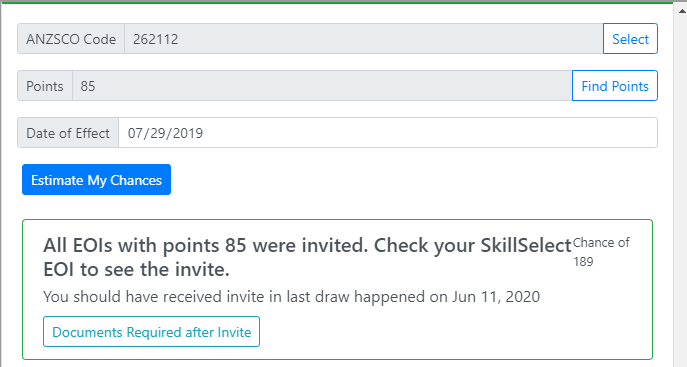 Again, the same thing. You do not understand how the whole EOI system works.
Your 'date of effect' changes with change in points. Your current DOE should be 16 Nov 2019 and not July.
You need to enter correct data to get correct results.
What you are doing is entering wrong 'date of effect' and then expecting the calculator to give correct results.
That's not how things work.
The date of effect for sending invites on June 11 was 1 Feb, 2020. This means that Invites were only sent to people who had filed EOI before 1 Feb 2020.
You also need to understand the system before saying 'calculator is wrong'.
So even if it is 16th November 2019 I should have got the invite isn't it? The EOI date has not changed to 16th November 2019 even though I gained 10 points due to changes in point system on 16th. I gained 10 points for being single. In addition to that on the Australia immigration website Invitation rounds
it is mentioned that the targeted invitation rounds occurred in May and June 2020 due to COVID 19. Could that be the reason @Pawan_Rijal and I haven't got the invitation cause Australia immigration is targeting only few occupations to send the invites and giving preference to applicants who are in Australia only due to COVID-19. But again I might be wrong as you mentioned I don't understand How EOI works.
I am not sure if any such targeted invites are being sent.
It is possible that it may have happened but i am not aware of it.
The calculator uses artificial intelligence to find out the possibility of an invite in near future based on past data.
It is not 100% accurate. Nobody can be accurate either as Australia Immigration changes the criteria every month.
For new year, i have heard that Immigration will be down by 80% and hence the chance of invite will go drastically down.
Hi Anil,
Quick question:
Can skilled work experience be assessed after receiving invite? I have already assessed my qualifications and filed in an EOI for the occupation. My points for work experience have already been added due to the duration of my work being more than 1 year because I had to leave my end date blank.