The CEAC status is just showing the status as 'refused' as you got form 221g.
Form 221g is considered a refusal in legal terms but your application is active until they return your passport to you.
Thanks for your reply… can you give me any idea how long it will take… and usually what is the result of this type of case… based on any old case like mine…
One more thing if they again refuse what can we do next?? Visa waiver or any other option??
Please can you guide me ??
Did you got your visa?
After administrative processing status it showed refused so what happened next can you please let me know.
Hi 1Nish,
I am in the same boat. I got 221g blue slip and after a month my case changed from admin processing to Refused. Do you know what it means ?
And what happen to you case.
My case change to refused yesterday. Did you contacted consulate about the update or what does it mean?
I have no idea about it.
I am hoping this is true:
"If your visa has been stuck in administrative processing and suddenly on March 3, 2020 you saw a new " REFUSED" appear on CEAC, then I can explain what's happening
BIG UPDATE !!!
I'm a lawyer who filed a lot of mandamus cases to help folks get their visas out of administrative processing
Here's what's going on
It seems that today the CEAC status for anyone with a case pending administrative processing has been changed to "refused." After several messages from panicked clients, we noticed that there is new language regarding AP at the bottom of the CEAC now stating that if the case was refused for AP it will be readjudicated.
If the "last updated" date has not changed then it appears not to be an actual refusal, just change in the way the CEAC is showing AP cases. "
Hi,
Mine was also refused yesterday and last update status did not change. After looking at below video in the comment. It seems something is changed the way they process.
Do you think if i should file a law suit if my case has been stuck in AP for 4 months already or is it too soon
Hi all,
There is no need to worry as i have verified cases from US embassy Chennai and Hyderabad where the passport was requested for visa stamping last week.
Their case status also changed to 'Refused' on CEAC website on March 3, 2020.
This is just an update to the way CEAC is showing status online and nothing else. NO NEED TO PANIC.
This is just a way to say your case is pending form 221g processing. Earlier, the status used to show 'Administrative processing' but, now it is showing 'Refused'.
We have real #H1B cases from Chennai and Hyderabad embassy where passport was requested last week and still their case status changed to 'Refused' on March 3, 2020.
DO NOT WORRY.
Share this update with all your friends to keep their blood pressure in check.
I have given examples and links to real cases here:
Hi @Im_Ran
I know of two cases where the passport was requested and then their status changed to "refused" on March 3, 2020.
Both cases are now showing status as "Issued" and this proves that CEAC has just changed the way they show status.
Pretty bad and illogical change though!
Hi @Sam400
Did your read what i have mentioned above? Please read as it is not possible to repeat the same for everyone's individual case.
Hi @Anil.Gupta ,
My application has been in AP since Sep 2019 and now it shows "Refused". But the updated date is March 9th, 2020. Is it negative or positive?
The text is the one mentioned in your post, the long one: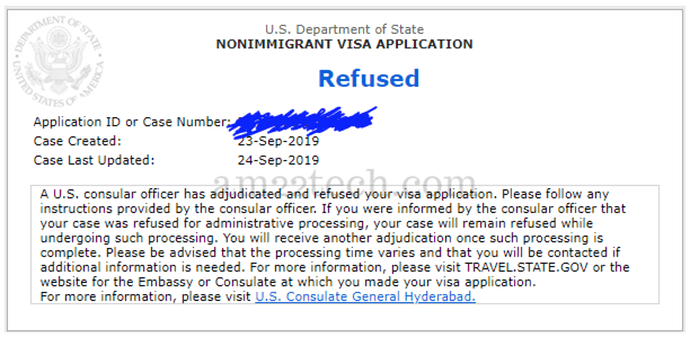 Hi @Anil.Gupta I have filed for mandamus as well. It's been 1.5 months since we filed it. It could be that the mandamus has pushed the case to be looked at.
Anyways I wanted to learn about your opinion on the case last updated date which went from Sept 2019 to March 9,2020 yesterday.
Good sign? Or just random sign?
Hi @Don
Mandamus may not have anything to do with the status update as we saw the update for everyone around the world.
The last update change after mandamus usually means that your case is moving ahead to next step. You may hear some news soon.
@Anil.Gupta
Fingers crossed! It's been a tough 6 months. Hope resolution is near.