Hello,
I have a positive assessment from ACS done in Jan 2020. I had 2 employer experiences assessed last time.
I had 2 years in my current job at that time (SEP 2017 - SEP 2019).
Dates: 09/17 - 11/19 - 2 year(s) 3 month(s)
Position: Security Consultant
Country: Outside Of Australia
However, I have currently been with the same company and job role and want to update the dates to SEP-2017 - SEP-2021(4 years).
This brings my total experience to 5 yrs and so I can claim 5 additional points.
I wrote this to ACS and they have asked me to start a new application and mentioned my current documents would be carried over.
They have mentioned this in their email:
"Your previous documents will carry forward onto the new application. You may then upload any new/updated documentation onto the application."
So since I only want to assess this new increased experience (2nd employer), do I need to submit documents for the first employer as well?
Also, I found this post from expatforum from 2014 which says ACS allowed adding additional experience over email, anyone has any idea about this?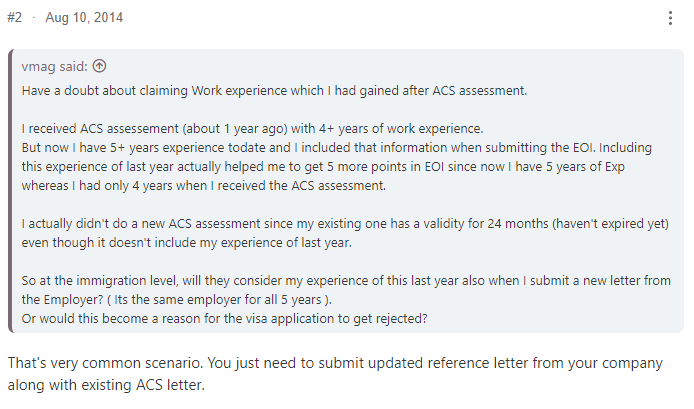 Finally, is it worth doing the reassessment before they announce their plans related to offshore candidates? As of now, no one has any idea about what the plans for offshore even are, right?