Hi, I have a case number starting with "A" and I not sure where to check the status.
Thanks
You cannot check PERM status online yourself. Only your employer or their attorney have access to PERM case status.
Estimate and compare PERM case
You can compare your PERM case with other users cases here in this app.
The app gives you an estimated PERM approval date that you can expect. You can also check the real time data as entered by users (unverified) for their own cases.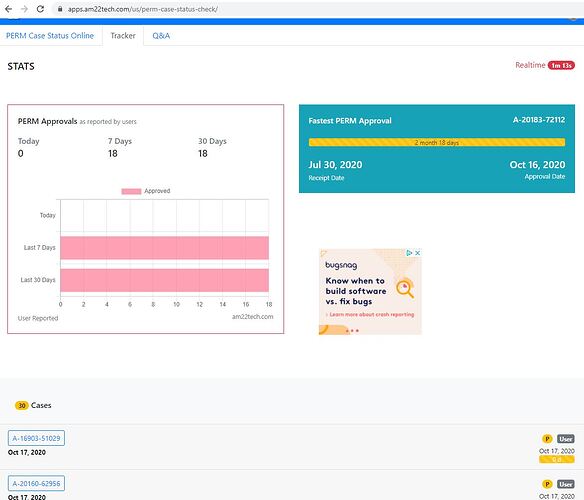 PERM Verified cases
PERM verified cases are available here. The cases that have been verified with DOL's publicly available data are marked as 'verified' while the ones entered by users are marked 'User'.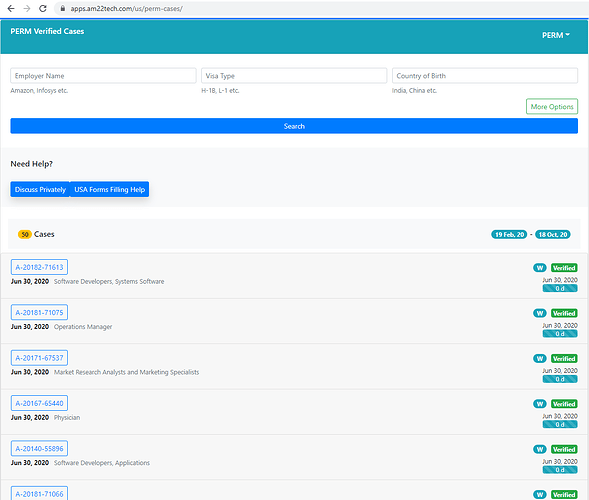 A PERM verified case also shows you other details like employer name, visa type, country of birth, salary and job location.
Hi ,
My Perm is applied on Oct 30 2019 and went to audit and still not approved.
When I checked on Am22tech the Audit Perms applied in Dec 2019 also getting approved .
They gave me the receipt number but not sure whether it is correct or not.
Is there a way I can know the status without consulting the employer ?
Thanks,
Naveen
Hi Friends,
My PERM is filed by the end of June 2020,is there anyone who received approvals by filing around same time.
And also is it only attorney who will get to know when my PERM is approved? or is there any alternate way to find out my current PERM status.
Thanks
Vinay
mine also on june,2020 .
no update yet
Hey Khan … can you please share your PERM Case number.
Regards
Vinayaka
Starting with 20170 …
Thanks & best regards.
MMU KHAN
whether employee can call labor department to know perm case status if employer/attorney hiding status information of perm?
Mine is also in June 2020. Still no updates.
Mine is Feb 2020 still no response. There was an audit in August which was responded in Sept but till date no response.