Hi Anil,
I have total 9 yrs 1 month of work experience, starting date is 23 sept 2010 and continuing in the same company till date.
I have submitted my ACS assessment on 24 feb 2019. and got the result on 12 Mar 2019. I after date for my skill experience is Sept 2014.
I have submitted EOI , ACS assessment date as 12/03/2019 . Marked relevant experience from 01 Oct 2014 to blank as end date.
I am expecting 10 points for my experience , however, on submission i am getting only 5 points. I am attaching few screens for reference . please help me understand why am being awarded only 5 points for experience.
Please let me know if i have to correct or update anything.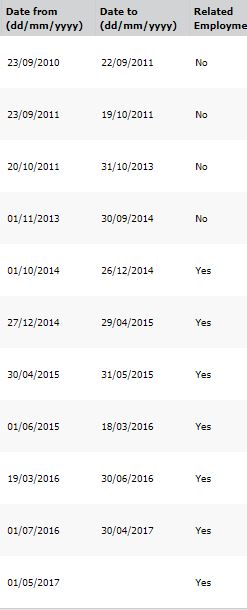 Unable to attach more than one screen
ACS result information :
12 March 2019
Our Reference: A-255614
Mr Rakesh Gurram
Dear Mr Gurram
Thank you for your ICT skills assessment, which was received by the Australian Computer Society on 24
February 2019.
Your skills have been assessed to be suitable for migra􀌬on under 261313 (So􀌞ware Engineer) of the
ANZSCO Code.
Your qualifica􀤘on has been assessed as follows:
Your Bachelor of Engineering from xxxx University completed August 2010 has been
assessed as comparable to an AQF Bachelor Degree with a Major in compu􀤘ng.
The following employment a􀤋er September 2014 is considered to equate to work at an appropriately
skilled level and relevant to 261313 (So􀤋ware Engineer) of the ANZSCO Code.